Where are YOU going to get off your tool box this weekend?
Before you look on Resident Advisor, The Guardian Guide or Time Out, have a think about who really has a clue about what's going on in UK club land (me).
In this week's world famous Weekly Review of Dance Music I'll be telling you which night to go to if you live in the following three or four places:
Other Regions

West and Wales

South and East

Scotland

Northern Ireland

North

Midlands

London
Other Regions
Outside of the British Isles there really is only one place to head to on Saturday night. Duel: Beat opens its doors for the very first time and Super Discount himself, Etienne De Crecy, is there to help etc, etc, with making this night a roaring etc, etc. If you can avoid looking at the many mafioso clubbers in the wrong way you'll have a bellissimo time.
Duel:Beat Opening Season with Etienne de Crecy at Duel Beat

Scarfoglio (ex base US NAVY) 76, 80100 Napoli (NA), Italy
West and Wales
Ratpack return to Newport on Saturday night for what is sure to be a buzzing night of old school beats, old school bass, old school hi-hats, old school synths, old school vocals, old school scratching, old school spin backs and old school flava. Know what I mean? Join Top Buzz and Ratpack for nine hours - NINE FUCKING HOURS - of middle-aged men in tracksuits on steroids looking like they want to tear your head off for breathing to a backdrop of uplifting top speed house and garage.
Ratpack 25th Anniversary at The Bassment
The Bassment, 14 Stow Hill, Newport, Gwent NP20 1JB
Because we...are...your friends...you...will never be alone again, so come one...I'm talking to you, come on!

On Saturday night you can party in Dorset like it's London in 2005. Mak & Pasteman, The Golden Boy, Shark Bait, Jack Light, Neffa-T, Audio Sleaze, Ca:ro and WAYF DJs take over a fire station in Bournemouth to bring you the latest in retro-house sliders and visual treats.

We Are Your Friends: Opening Part 2 - The Main Event
The Old Firestation, 36 Holdenhurst Road, Bournemouth, Dorset; BH8 8AD, United Kingdom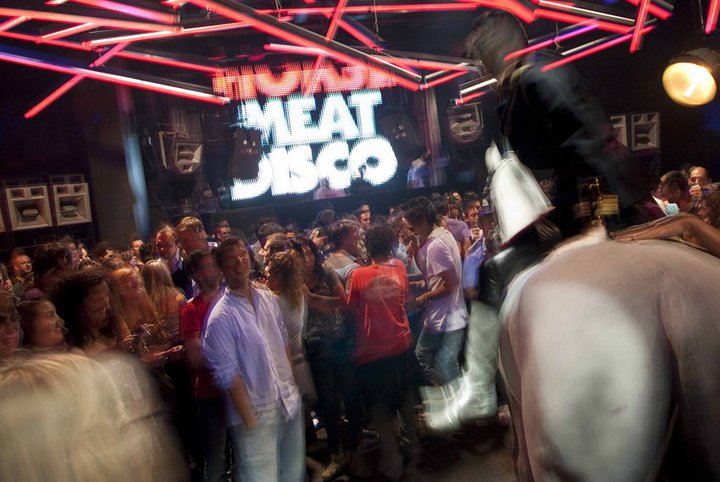 Scotland
Get yourself up to Scotland this weekend, specifically Saturday, for a rare Horse Meat Disco set outside of London. I could have sworn that Severino told me in Chariots that they don't like to venture north of the border because of

CONTENT REMOVED BY LAWYERS REPRESENTING TONKA

after Jim Stanton

CONTENT REMOVED BY LAWYERS REPRESENTING TONKA

on top of a wheelie bin outside a kebab shop. Horse Meat Disco and cartoon disc jockey Mighty Mouse spin the decks and pump the tunes all night long (until 3am) at Cabaret Voltaire in Edinburgh.

Nightfilm
Cabaret Voltaire, 36 Blair St, Edinburgh, EH1 1QR, Scotland
Northern Ireland
This Saturday night witness Dublin's finest and Ireland's number one party DJ, DJ Tando, take care of business in the main room at Sense Nightclub in Cookstown. W
ith DJ Sluger in the Secret Lounge you'll be spoiled for choice when it comes to music! Local resident, Jimmy Cricket, is often spotted at the bar on Saturday nights but I'm told that he doesn't do autographs, photos or small talk. Be warned to avoid embarrassment.
If you travel the

Sense Express

way for £20, you get transport, queue jumping permissions and free entrance to the club.
Sense

Glenavon House Hotel, 52 Drum Rd, Cookstown, County Tyrone BT80 8JQ
North
Madchester is where it's at for the rest of the year. The Warehouse Project sucks all the best DJs in the world into it's warehouse and charges you around £30 entrance fee to look, hear and dance to all the music that gets played. Tune after tune after tune will get rinsed by under and overground DJs. There'll be DJs that you've heard of and DJs that you'd not heard of until you got there. Needless to say, the music will be out of this world and if you don't have a fantastic time at any of the nights you can get a ticket for then you're a bit fucking simple and need to get on the ferry to Northern Ireland for DJ Tando at Sense.
KiNK (live), Dixon, Carl Craig and Martinez Brothers stand out for me at this opening weekend.

Welcome To The Warehouse at The Warehouse Project
The Warehouse Project, Victoria Warehouse, Trafford Wharf Road, M17 1AB
Midlands
Watch Mark A, Beane and Wrighty go all starry-eyed, laughing in all the right places and fetching the main man regular cups of tea in between Tweeting pictures of themselves sharing the DJ booth with Andrew Weatherall, who headlines Soul Buggin's 9th birthday party at The Bodega Social Club in Nottingham on Saturday night.
Expect nautical loops, Notts hard-bag and high-tempo, stripped-bare haus and techno.
Soul Buggin' 9th Birthday at The Bodega Social Club
The Bodega Social Club, 23 Pelham Street, Nottingham, NG1 2ED, United Kingdom

London
Café Mambo is a great spot for watching that sunset whilst seething. Silently you stand, cramped against the doorway as somebody off of Radio One talks over another record. You regret not trying to argue a bit more forcibly with your friends that sitting outside Café Del Mar and listening to something a bit more chilled is the better option. Sister Bliss and Fergie bring that Cafe Mambo vibe to London's Pacha on Saturday night.
Pop along, spend £15 on the door, watch a load of Australians spill beer on the floor and wish that you were at Club Fabric for Bicep and Daniel Bell.
Cafe Mambo Ibiza On Tour

Pacha London, Terminus Place, Victoria, London SW1V 1JR, United Kingdom
----------------------------------------------------------------------------------------------------------
Wherever you are in the UK, you're GUARANTEED to have a good time this weekend after reading all that. Sincere apologies to everyone who reads this outside of the UK. I'll try to create a worldwide clubbing guide soon. Please bear with me.
I'll be back soon with more posts, reviews, etc, MASSIVE QUESTIONS with Flori, the very first WRDMFM podcast, MASSIVE QUESTIONS with Brandon Block, a dramatic piece about the escalating Musical Bingo wars in London, more guest posts on

Ran$om Note

and some exciting news about Google.
Email me:
tonkawrdm@gmail.com
Ps. How good was that

Spencer Parker

pod on RA this week?